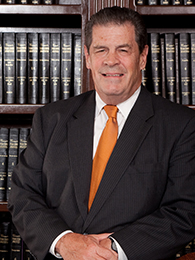 Tom Scott McCorkle was born and raised in Dallas, Texas, where he graduated from Highland Park High School. He attended the University of Texas at Austin receiving a Bachelors of Business Administration (B.B.A) degree in 1966. From there Mr. McCorkle went on study law at South Texas College of Law in Houston and received a Doctor of Jurisprudence (J.D.) degree in 1971, being admitted to the State Bar of Texas that same year. Mr. McCorkle has been Board Certified in Criminal Law by the Texas Board of Legal Specialization since 1976.
Being a founding partner of the Dallas firm McCorkle Westerburg & Thornton, P.C., Mr. McCorkle spent the first 38 years of his legal career as a litigator, both trial and appellate, in the areas of Criminal and Family Law, as well as in various types of civil litigation.
Additionally, Mr. McCorkle has always been dedicated to improving the legal system and the law through volunteerism and active involvement in numerous organizations whose aim is to improve the quality of legal representation and services both in Texas and across the nation. Mr. McCorkle is a member of the State Bar of Texas, the American Bar Association, the Texas Association of Criminal Defense Lawyers, the National Association of Criminal Defense Lawyers, and is a Life Fellow of the Texas Bar Foundation.
Although having practiced law in Dallas so many years, Mr. McCorkle has been a virtual resident of Upshur County for the last 35 years working his farm that he acquired as young lawyer. He has deep roots in the area as well being a direct descendant of William Thomas Scott, who settled Harrison County in 1837 and founded the plantation community of Scottsville. Mr. McCorkle and his wife Mary reside in Dallas, Texas and on their family farm in Upshur County.
Click here to return to our directory of East Texas Attorneys at Tefteller Law, PLLC.
Demand Justice Now!
Call: (903) 843-5678
Or use the Contact Form below: