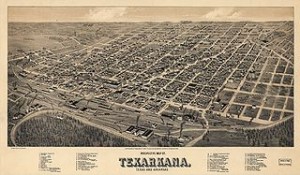 Texarkana Personal Injury Law Firm
Tefteller Law proudly serves Texarkana and its surrounding communities in East Texas. Texarkana is a city in Bowie County that is also part of an Ark-La-Tex region. Together with its neighboring twin town Texarkana of Arkansas, it forms the metro community of Texarkana. Over half of the 68K population are from the Texas region.
Texarkana has captured the imagination of pop culture with such mentions as Brenda Lee's 1959 song Let's Jump The Broomstick, the movie The Brave Little Toaster, title song by rock band R.E.M., song Cotton Fields by the folk musician Lead Belly and later recorded by several notable country rock artists including The Highwaymen, Buck Owens, The Beach Boys and Credence Clearwater Revival, the SF novel A Canticle for Liebowitz, hit song East Bound And Down from Smokey And The Bandit,and recent hit movie like Zombieland.
Sound Legal Advice
Experiencing a highly-contested court case and fighting the insurance companies, big corporations, local government and enforcement agencies, or other "Big Boys" can be frightening and extremely difficult for many people. When you need to get the legal job done and done right, it is important to turn to experienced trial lawyers who can ensure the best possible legal outcome and award.
At Tefteller, we are experienced trial attorneys and can help individuals in Texarkana, Texas with:
18-wheeler and commercial truck accident
Catastrophic injury
Medical malpractice
Auto accident
Sexual/physical attacks
Government/police brutality
Stock/investment fraud
When going to court even when you know you are in the right, many people become stressed and have difficulty coping. Tefteller's purpose is to simplify things for you and make the best course of action obvious. While the law can be confusing for many people, we can help you to understand your options and help you to find a solution.
At Tefteller Law, we are a dedicated firm of attorneys and highly trained staff who work together to get you everything you deserve. Whether you case is a commercial truck or 18 wheeler accident, auto accident, investment fraud, medical malpractice case or other serious injury, we have the resources, skill and toughness to represent you. These days it is hard to find justice when you have been injured or a loved one has been killed by someone else's negligence or bad intentions. When that day comes, we will be there to stand up for you and take the fight to them.
If you need legal help in and around Texarkana, please don't hesitate to call us at (903) 843-5678. While the process may seem daunting, great legal advice is the only way to make the best of a difficult and painful situation. We care about making things go as smoothly as possible, and our experienced attorneys are capable of dealing with any cases no matter how serious. No matter what the nature of your injury or damage is or how far along you are in the process to derive justice, get in contact with one of our experienced attorneys to help get everything you and your family deserve.
EAST TEXAS AND TEXARKANA
Location in the State of Texas
Coordinates 33°26′14″N 94°4′3″W
County Bowie
Nickname The Texas Side
Motto Twice as Nice
City of Texarkana
Wikipedia Entry
Demand Justice Now!
Call: (903) 843-5678
Or use the Contact Form below: