While Longview isn't purely thought of as an oil town anymore, the construction of the oil pipeline in 1942 was an integral component of its growth as a city.  The Big Inch pipeline was the longest petroleum pipeline built at the time of its construction; it transported 261 million barrels of crude oil to the East Coast by 1945, and was an integral component of the WWII US war effort.  Even today the number one source of jobs in Longview is the oil industry, and the East Texas Oil Field is a probable cause of Longview's steadily growing economy.
While the booming oil industry in Longview is beneficial for the economic growth of the city, it also means that there are a lot of 18-wheelers on the roads shipping truckloads of crude oil and other kinds of fuel all over Texas.  And the increased presence of 18-wheelers on the roadways makes for its own kind of risk—especially to anyone driving a smaller car.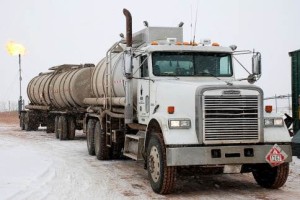 What's the risk?
Statistically, one in every ten collisions in the US involves an 18-wheeler or other form of big rig truck.  In fact, there are more than 400,000 big rig accidents in the US each year, and this causes more than 100,000 serious injuries as well as more than 4,000 fatalities.  With one of the highest volumes of trucking traffic, cruising through those Texas highways and interstates, Texas sees its share of 18-wheelers—and 18-wheeler accidents.
These accidents can cause a lot more damage—on a much larger scale—than the average motor vehicle collision is likely to cause.  Accidents involving 18-wheelers pose a greater likelihood of property damage, serious injury, and death.
In the event of an accident, the victim (or the victim's family) will be treated to a fair trial to ensure he/she/they receives full compensation, right?  Maybe not.  The problem with allowing the oil industry to play a crucial role in the development of a city is that the oil industry inherits even more power than it had before.
Why is this a problem?
Consider this: if you are involved in an accident with an 18-wheeler truck that is driving for an oil company, you not only have to fight for your rights as a victim in a motor vehicle accident, you also have to fight against a big business oil corporation that has a lot of power, influence and money.  It can be a pretty daunting battle.  They are guaranteed to have a top-of-the-line team of lawyers at their disposal.  Fortunately, though, so do you.
That's where we come in
Here at Tefteller Law, our Longview personal injury lawyers are prepared to fight for your rights—no matter who we have to go up against in the process.
In this day and age, it seems like the oil companies are getting away with a lot—from the loss of habitats and ecosystems of the large-scale ecological damage that occurs as a result of oil and chemical spills.  But, this doesn't have to be the case.  Contact us at Tefteller Law today, so we can help you to recover from the losses associated with your big rig encounter—without having to sacrifice any of your rights in the process.