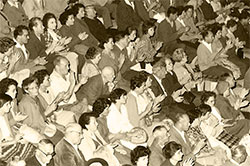 In a surprise ceremony, 115th District Judge Lauren Parish awarded our own Todd Tefteller along with Gilmer attorneys Mike Martin and Joe Newsom with certificates of appreciation by Lone Star Legal Aid for their pro bono legal work for clients in need. Pro bono means that the service is provided free of charge.
Honorable judge Paris stated that the awards were for lawyers who commit to "yeoman's work" for those citizens who are unable to hire an attorney. The judge praised Lone Star Legal Aid which works with attorneys in dispensing pro bono aid in civil cases. The organization is the fourth source of legal aid in the United States with fourteen offices in Texas serving 72 counties.  Lone Star's Longview office represents seven counties in East Texas including Upshur.
Read more details here.
Motives of Insurance Companies